Bob White, Founder of Slope's BBQ, began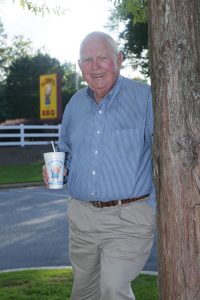 his barbecue venture on Sugar Pike Road in Hickory Flat, Georgia in August 1990 at a two-chair barber shop that had been converted to a take-out breakfast and lunch restaurant. At the time, he was an insurance salesman and financial planner, but his passion for cooking feasts for neighborhood parties and church cookouts was undeniable. Located at the corner of Sugarpike Road and Union Hill Road in Cherokee county, the doors were open between 11am and 6 pm on Saturday only.
The BBQ was gone by 2:00 on the first day he opened. One week later, Bob increased the BBQ volume and still sold out by 3:30. This small, operation left a big impression on Bob's future career path as clientele strongly suggested he open a full service BBQ restaurant. Lucky for us all, Bob agreed and this start-up allowed him to fine tune his recipes and make BBQ a way of life.
In January 1991, Bob and his wife, Marlene, parlayed the experience on Sugar Pike Road into the full time operation of the first Slope's BBQ restaurant in Roswell, Ga. Located in an old pizza restaurant location with cramped kitchen quarters, Bob and his colleagues came to know each other well (too well, some would say!) as they shared the White family barbecue specialties.
In 1997, Bob began to spread his concept through franchising and continues to offer this opportunity to qualified individuals that are interested in spreading Slope's Style to new communities. There is a Slope's BBQ franchise in Alpharetta and Sandy Springs, Georgia.
In 2022, Bob retired and sold original Slope's BBQ Roswell location to Angel Martinez.